No matter what I do time keeps marching on even when I want or need it to slow down for me. The shift from Thanksgiving to Christmas has been made and the all out dash to Christmas begins. Each year I always say that I am going to have my shopping done before Thanksgiving and my house all in order and down to the scent you smell when you walk in the door. I have this idea of no kids fighting, no parents yelling, or having any other things to worry about so that we can just sit back and enjoy the magic of Christmas. Obviously this is not realistic. Especially with three little ones under the age of 5. Ornaments get broken, rooms get messy, tantrums get thrown, and feelings get hurt. But inbetween these moments are the ones that matter most.
The other night the girls helped me put up and decorate the tree, hang the stockings and put up other decorations. Christmas music was playing, we were having fun, and watching the awe in my baby's eyes at the lights was the best. I found it extrememly appropriate that the tree ended up right next to this picture of Christ that was already hanging on the wall there. It is a great reminder for us of what Christmas is all about.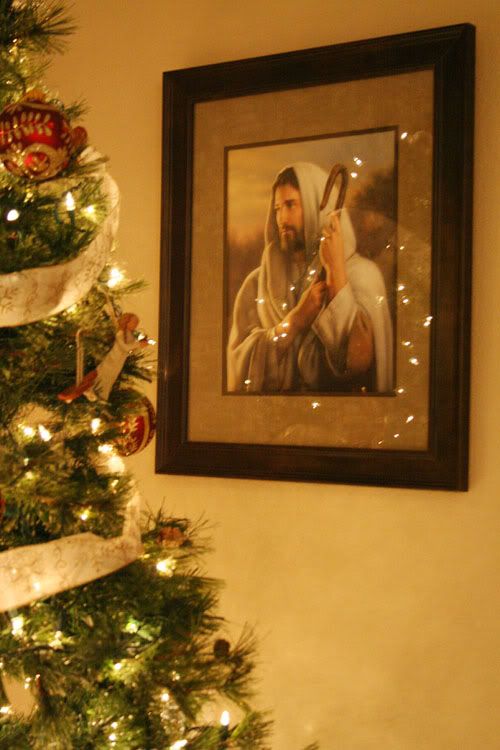 Once the tree was up and we tried to get a decent picture of the girls with it, the frustration tried to eek it's way back into the room (you know why if you have seen past posts about trying to get a picture with all three of my girls) but luckily it was evaded.
If you look closely you will see that all the ornaments are at least a foot and a half off the ground so that they don't end up in the grasp of chubby fingers.

McKenna was really worried that we wouldn't be able to tell who's stocking was whos so she had to write everyones name on some paper and tape it to their stocking. She is so funny and such a worrier. She gets that from her dad :)

Now I just have to get everything done in the next couple of weeks that should have been done a month ago. So here's to next year and enjoying this year for what it is. Merry Christmas everyone!